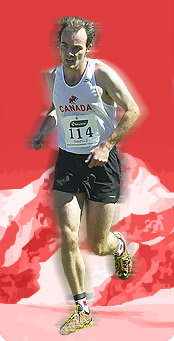 Contact Us:
adrian.lambert@mountainrunning.ca



Thursday, September 29 2011 - Bidding open for 2012 Canadian and NACAC Mountain Running Championships
The CTMRA has opened the bidding for the 2012 Canadian Mountain Running Championships which will also be the 9th NACAC Mountain Running Championships.

The race will be held in July 2012.

The race will be an all-uphill race.

Application forms with more information can be found at: 2012 Bidding Documents

Applications should be submitted by October 30, 2011.

Sunday, September 11 2011 - Canadian Results from the 27th World Mountain Running Championships
Results:
MEN
1st - Max King USA 52:06
2nd - Ahmet Arslan USA 52:41
3rd - Martin Dematteis ITA 52:57
...
37th - Adrian Lambert CAN 1:00:36
...
45th - Paul Chafe CAN 1:01:34
46th - Mark Vollmer CAN 1:01:42
...
58th - Kristopher Swanson CAN 1:02:51
...
68th - Shane Ruljancich CAN 1:05:08

Kristopher Swanson was the top Canadian at the end of the second lap, but had heat exhaustion and was taken to the hospital after the race.

Unfortunately, James Gosselin was forced to drop out of the race after the first loop. He had food poisoning the day before the race which contributed to him straining his back on the first descent. He will be looking for redemption at the Commonwealth Mountain Running Championships on September 24th in Wales.

Canadian men were 11th out of 17 teams.

There were 102 finishers in the men's field, with a number of people having dropped out.

WOMEN
1st - Kasie Enman USA 40:39
2nd - Elena Rukhlyada RUS 41:47
3rd - Marie-Laure Dumergues FRA 42:23
...
34th - Melissa Ross CAN 47:21
...
48th - Sonja Yli-Kahila CAN 53:27
49th - Kathryn Waslen CAN 53:29
...
51st - Laura Estey CAN 54:29

Canadian women 12th out of 12 teams

There were 52 finishers in the women's race, again with a number of people having dropped out.