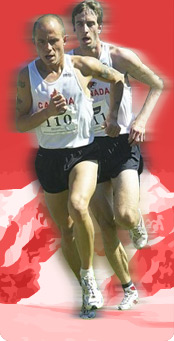 Contact Us:
adrian.lambert@mountainrunning.ca



Wednesday, September 19 2007 - Canada at the World Mountain Running Trophy
Thanks to Kelvin Broad for this detailed report. If you would like to be on our mailing list, please send me an email: john.lofranco@mountainrunning.ca

The World Mountain Running Trophy was held in Switzerland on an up and
down course this last weekend. There were two excellent individual
efforts by Canadian athletes at this year's championship.

Adrian Lambert of Edmonton gained the highest place by a Canadian Male
athlete ever at the World Mountain Running Trophy with a stellar 21st
placing. This effort eclipsed the effort of Geoff Williamson who
finished 26th in the last up and down event in New Zealand in 2005.

Katrina Driver of Vancouver also put in a strong effort finishing 23rd
in the women's event. This is the second best showing by a Canadian
women and moves here Katrina closer to emulating Val Chowaniec's 9th
placing at the 2001 championship. Katrina can be well satisfied with
her performance as she improved from 56th at last year's championship
in Turkey. Katrina was joined by Jennifer Farone (44th) and Sharlene
Cobain (54th) to finish a creditable 11th place in the team
competition.

The race saw Marco De Gasperi take his fifth world title and on the
women's side Anna Pichrtova finally taking the title after a number of
finishes in the minor placing over the last few years.

Canadian Results
Senior Men
21. LAMBERT ADRIAN
87. VOLLMER MARK
101. DRIVER SIMON
120. CHESTER SEAN
128. MCCROY HEATH

Women
23. Katrina Driver
44. Jennifer Farone
54. Sharlene Cobain

Junior Men
65. REID MIKE
70. MILLS-CONNERY FRASER

Junior Women
50. TONGUE KATIE

Full results are available at
http://services.datasport.com/2007/lauf/cmm/#Marke0

The 2008 Canadian Mountain Running Championships are tentatively
scheduled for July 19th at Mount Seymour, BC. Details to come!