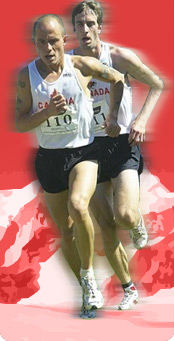 Contact Us:
adrian.lambert@mountainrunning.ca



THAILAND TO HOST FIRST-EVER JOINT WORLD MOUNTAIN & TRAIL RUNNING CHAMPIONSHIPS IN 2021
Saturday, January 23 2021
Big changes are coming to mountain running in 2021.

Chiang Mai, Thailand will host the inaugural World Mountain & Trail Running Championships on 11-14 November 2021.

The event will feature 40KM and 80KM trail races, classic mountain races for Seniors and Juniors, and a vertical uphill race.

It replaces World Championships previously hosted by the WMRA (mountain running) and the IAU/ITRA (trail).

We will be announcing the selection criteria for the World Championships and details of this year's national championships shortly. Check back soon!

Note that this year the Canadian Mountain Running Association will be selecting competitors for the classic mountain races, and the vertical uphill race. Selection for the 40km and 80km trail races is likely to be selected at events sanctioned by the Association of Canadian Ultrarunners, although this will be confirmed shortly.

More details to come!
> Read more...
Canadian Long Distance Mountain Running Championships still on!
Friday, September 4 2020
The World Long Distance Championships may be cancelled, but the Canadian Long Distance Mountain Running Championships are set for October 11, 2020, in Mont-Sainte-Anne, Quebec!

Head over to the Quebec Mega Trail website for all the information and to register!
> Read more...
World Mountain Running Championships Cancelled
Friday, September 4 2020
Regrettably, the 2020 World Mountain and the World Long Distance Mountain Running Championships have been cancelled.

As from the World Mountain Running website, WMRA president Jonathan Wyatt said: "It is of course a difficult thing to take away the World Championships this year but in the end the decision to do it was not difficult. We have to make sure that our sports event does not contribute to any sort of worsening of the global pandemic we are facing and we have not seen a big enough improvement to take away these doubts. Therefore, together with our friends in the organisation team (Arista events), the local Haria government on Lanzarote and the Spanish Athletics Federation (RFEA) we have decided that this is the best action to take.

Read the whole announcement on the WMRA website

If you are craving racing, though, remember that the Canadian Long Distance Championships are still being held, in conjunction with Quebec Mega Trail, is still happening, October 11!
> Read more...
Selection Criteria and Worlds Updates - Applications Remain Open
Tuesday, June 30 2020
This is an update about the status of the World Mountain Running Championships (Classic and Long Distance) and the Canadian selection criteria.

There is still a lot up in the air due to Covid19. It is not clear whether the World Mountain Running Championships and World Long Distance Mountain Running Championships will go ahead this year. They have not been cancelled yet, but other major races in November have already been cancelled, including the New York Marathon. Even if travel restrictions are lifted, rules such as prohibitions against large gatherings and mandatory quarantines after international travel could make the logistics of the event extremely difficult.

If the World Championships do go ahead, the selection for the World Championships will be based on race results from 2019 and 2020. We would also consider older results (pre-2019) if those demonstrate that you have previously competed at a high-level in cross-country and track and field.

There will be no formal selection race for the classic distance. There will be one selection spot available to the winner of the Canadian Long Distance Mountain Running Championships at the Quebec Mega Trail race in October. Otherwise, all selection spots will be 'at-large' and based on applications.

Applications are currently open and we have not set an application deadline. The application deadline, once it is set, will be announced on our website, Facebook page and Instagram page.
> Read more...

Welcome! The Canadian Mountain Running Association is happy to welcome you to our website. Our goals are to create a highly competitive national team program, and to develop the sport by cultivating relationships at the recreational level with trail race series across the nation.
We are currently seeking major corporate sponsorship to support our National Team program and increase the level of performance of Canadian teams at the World Mountain Running Championships. World Athletics is a Patron of the World Mountain Running Association (WMRA), to whom it delegates the control of our branch of athletics. The CMRA is similarly patronized b...

Adrian Lambert: adrian.lambert@mountainrunning.ca